Hi everyone, I'm not too late, am I?
I hope you're 'doing good' as the Americans would say, and as my mum always told us off for saying as kids because it was 'American'. And it's not because she didn't like Americans or American language, it's because she knew language was important and we should be slow to change it, especially without learning our own language well first. She was right. I wasn't doing good. I was probably keeping well. But probably not doing anything at the point of being asked, let alone something good. Now, saying 'I'm good' is reasonably insignificant in the grand scheme of things, but still, I'm glad she made the point because she helped me to learn the value of language in principle. Because changing the language can have devastating consequences on society and being consistent with language and having sympathy for the rules of language can benefit culture on every level. So in lieu of Mother's Day on Sunday, there's a little thought on one of the little ways my mum added value (probably without even intending to) to my life which I believe has added value to others' lives; because outside of work I do a lot of speaking and teaching and need to be very careful and clear with words and language. Mum's are great. Note to self, pick up flowers for mum for Sunday. Also, pick up smoked salmon for the wife so the kids can bring her a nice breakfast. So many things to remember.
On that note, just so you know, I didn't forget to write the blog yesterday, I just had a couple of important things to produce email campaigns for. So, sorry about that. I know I've got a competition winner to announce – and we will get to the later – but when the boss says 'We've got dates for a parchment retreat we need to shout about' boy oh boy do you stop what you're doing and shout about it. After having to cancel events throughout last year, we are understandably excited and just had to get that news out to you as soon as it came in.
If you didn't happen to get that message, well, check out Barb's blog here: https://www.barbaragrayblog.com/2021/03/spa-retreat-here-we-come/
Long story short, we're hoping to have a Parchment Retreat in October at the Spa Hotel in Tunbridge Wells. Read Barb's blog for all the important details and see if you'd like to book tickets!
But don't forget to come back to this blog, because there's a little more to say, yet. Such as, A Moment of Clarity is coming up! Ok, it's not until next Friday 19th March – BUT – the awesome new Mask collection Barbara will be showcasing during the Facebook live session are on sale now so that you can get them in time for the 19th. The Riverside Landscape and reflection collection (I love that; reflection collection) of Clarity Masks are a really cool way to create amazing art. Promoting Masks from being a humble companion to Clarity stamps into an outright star product in and of themselves. So trust me, you really do wanna see what Barb's gonna be doing with these during A Moment of Clarity. The Mask images are below, but I'll leave the artwork to Barb!
Next up, our winner. Last week I asked you a little musical based question linked to our products from last week's TV shows – the Chess stamps. and you all rightly guessed that the link between the musicians mentioned was indeed Chess records. One of my favourite record labels. Yep, I'm nerdy enough to have favourite record labels. Here's a little picture, then, of Phil Chess and the incredible Etta James. So well done to everyone who guessed. I don't think there was a wrong answer in the bunch.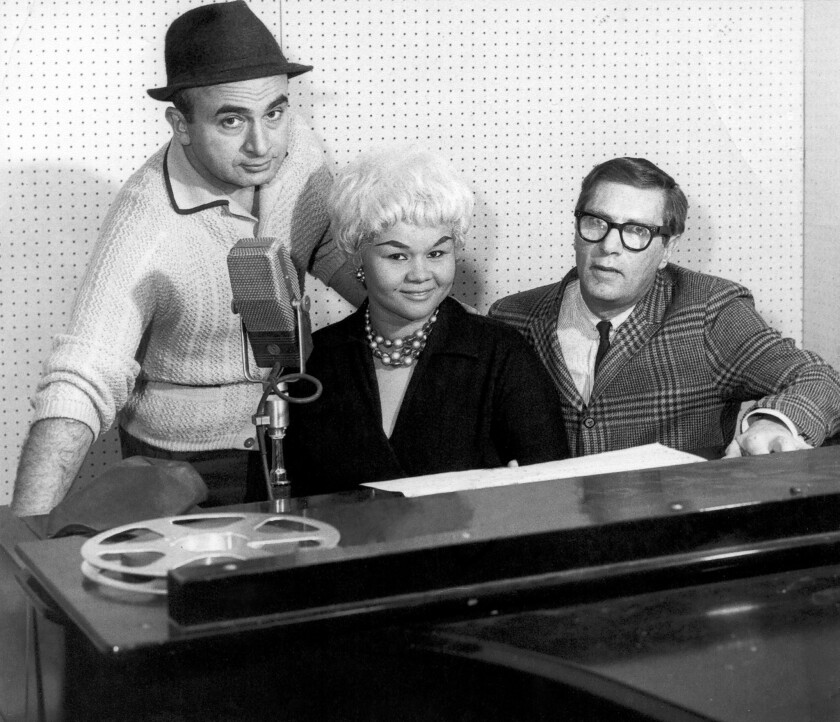 Anyway, to the winner. Whose name was pulled out of the proverbial hat?
Drum roll, please…
Congratulations Jackie Trinder
If you'd like to send me an email to gallery@claritystamp.com with your address and I'll pop a little something in the post to you.
Well, that will do from me. Do check out Barb's blog and the info on the Parchment Retreat. And don't forget to put an order in for the amazing new Masks so you can craft along with Barb during A Moment of Clarity in just over a week's time 🙂
Bye, for now, and stay safe.
Stuart